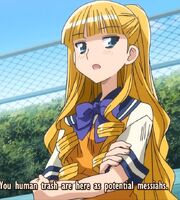 Princess Layla (sometimes spelled Leila) is a mysterious female met on a vending machine. She is revealed to be a princess who contacts an oracle. Her name is then revealed to be Ran Yatagai
True identity
Edit
Ran Yatagai (

谷田貝 蘭

Yatagai Ran)

Voiced by: Minori Chihara
She is a cosplayer who goes under the alias 'Princess Leila' (or Layla) and is very into her roleplay, suggesting she has a very loose grasp of reality. She seemingly makes a move on Shūsuke, dubbing him 'her saviour', and puts him through many strange trials, which are later revealed to train him to act out a warrior role in a cosplay event.
Ran has an older sister named Rin. They are identical twins, born in the zodiac of Taurus, and their blood type is B. Ran calls Rin 'clone' which is technically correct since that is what identical twins are.
The twins are a year older than the AGE 4, who are in turn a year older than thw two chicks interested in main character guy.